As we dive deeper into the vibrant and dynamic world of weddings in 2023, one thing is clear – the floral design trends are becoming bolder, more personalized, and more breathtaking than ever before.


Here are the top floral design trends that are making waves in the wedding industry this year!

Bold Color Palettes
This year, bold is beautiful when it comes to wedding flowers. Get wild and funky. Gone are the days of subdued, monochrome floral arrangements. Instead, couples are opting for vibrant, striking colors that make a statement and create a memorable visual experience. Whether it`s a stunning bouquet or a dramatic floral centerpiece, bold color palettes are the trend to watch.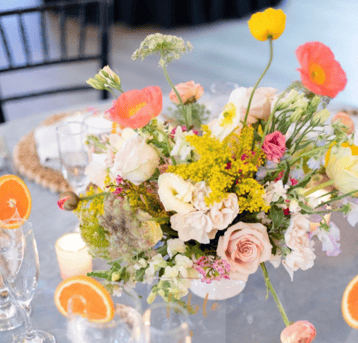 Among the wildflower florals.
Statement Ceremony Florals

In 2023, wedding ceremonies are not just about the vows – they're about creating an immersive, unforgettable experience for both the couple and their guests. One way this is being achieved is through statement ceremony florals. Think larger-than-life flower arches, cascading floral chandeliers, or a sea of flowers lining the aisle. These breathtaking floral installations create an immediate impact and provide a stunning backdrop for the exchange of vows.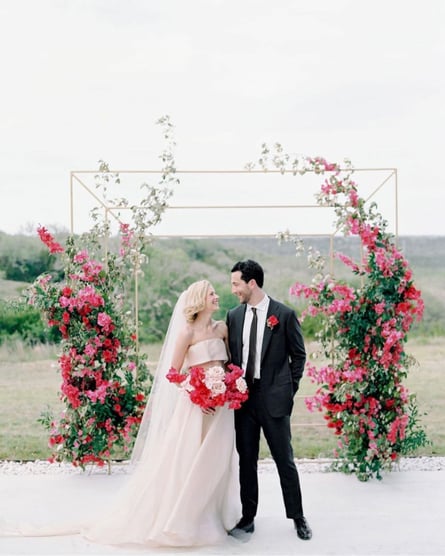 Good Seed Floral.

Dramatic Floral Accents

The trend for dramatic floral accents is taking center stage this year. This means not just having flowers in the centerpiece or bouquet but going all in. Floral accents are being creatively incorporated into every aspect of the wedding decor – from floral wall installations to flower-filled tablescape designs. These dramatic touches infuse the wedding venue with an element of surprise and sophistication, adding an extra layer of visual interest.
Floral installation


A favorite of many and an absolute winner to get you the most beautiful wedding pictures.

Imagine walking into a wedding venue and the first thing you see is a grand chandelier, only instead of crystals, it's adorned with a cascading array of flowers. Or consider being welcomed by a majestic floral wall that serves as the backdrop for the couple's vows or the setting for breathtaking wedding photos. This kind of ambitious, larger-than-life floral installations turn any wedding venue into a spectacular garden and flower paradise.

For such installations, flowers like roses, hydrangeas, and orchids are often chosen due to their lush, full blooms and various color posibilities. Vines and greenery such as ivy or eucalyptus can be added to create a more natural, wild look.




Floral Table Runners
Moving away from the traditional centerpieces, floral table runners have gained popularity. A floral table runner is a long, continuous strip of flowers and greenery that runs down the length of the table. This dramatic touch can transform an ordinary table into a stunning floral spectacle.

For table runners, consider using long-stemmed flowers such as snapdragons, gladiolus, or delphiniums to create a sense of flow and continuity. Incorporating greenery like ferns or moss can add a whimsical, fairy-tale feel.

Samuel Lippke Studios

.





Bridal Accessories

Brides are also embracing the trend of incorporating dramatic floral accents into their wedding attire. From floral crowns made of vibrant sunflowers or delicate baby's breath to bridal veils adorned with subtle floral embroideries, these accents infuse the bridal look with a unique, personal touch.
Green Wedding Shoes
Remember, the key to dramatic floral accents lies in their unexpectedness and grandeur. They are designed to catch the eye and create unforgettable visual moments. Whether they're hanging from the ceiling, adorning the walls, or incorporated into the wedding attire, dramatic floral accents can transform a wedding into a truly mesmerizing event.


All-White Weddings: An Everlasting Classic

In the midst of the vibrancy and drama, there remains an enduring trend that stands the test of time - the all-white wedding. Symbolizing purity and elegance, all-white weddings continue to be a popular choice for couples seeking a classic, sophisticated atmosphere for their special day.

The charm of an all-white wedding lies in its simplicity and versatility. It provides a blank canvas that couples can dress up or down according to their taste. Whether it's an extravagant affair with opulent white floral arrangements, white drapes, and white table settings or a minimalist event with white accents subtly incorporated into the decor, the possibilities are endless.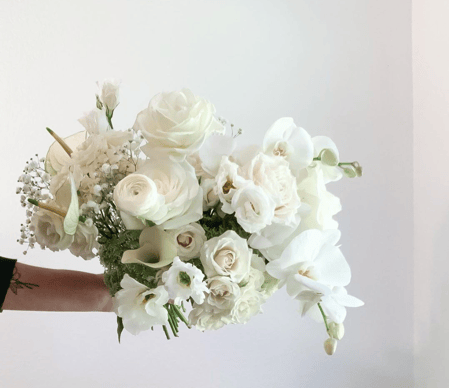 Ida Mayes Floral design

Floral design in all-white weddings offers a myriad of options. Couples can opt for white roses for their timeless appeal, delicate white peonies for a touch of romance, or white lilies for a statement-making effect. Not to mention, white flowers like baby's breath and hydrangeas can be used in abundance to create a dreamy, cloud-like atmosphere.

Moreover, an all-white theme doesn't have to be monotonous. By incorporating different shades of white – from ivory and cream to champagne and vanilla – and using different textures and materials, couples can add depth and interest to the decor while maintaining the dazzling all-white look.

In the whirlwind of wedding trends over the years, the all-white wedding serves as a serene oasis, keeping it classic. It's a testament to the fact that sometimes, the simplest things can be the most breathtakingly beautiful.
From the aisle to the centerpiece, and everything in between, flowers are playing a larger role in weddings than ever before. As we continue to navigate the exciting journey of 2023 wedding trends, it's evident that creativity, personality, and bold expression are leading the way. With these top floral design trends, any wedding can be transformed into a breathtakingly beautiful celebration that guests will remember for years to come.

Watch this space as we keep you updated on the latest trends and inspirations in the ever-evolving world of wedding florals. Happy planning!