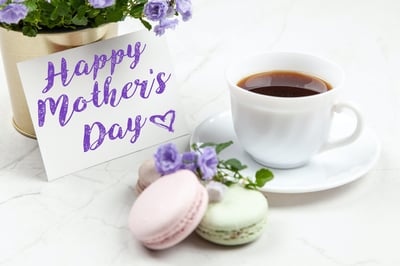 Despite of everything, the 2020 edition of Mother's Day has been a great success (also look for the inspirational Mother's Day video in this post 😉💐). Mothers all over America were pampered and showered with our favorite thing in the world: flowers! But what types of flowers were most popular? Did florists swear by roses or carnations? Did mothers from New York get more Ruscus than the mothers in South Carolina? And which states loved the bouquets that were pre-assembled by our growers? In this article, we'll talk you through some of our Mother's Day 2020 fun facts and figures. You can use this information to learn more about the way other florists work, and, of course, to optimize your shopping list for next year's Mother's Day flowers!
TOP 3 ROSES
Let's start with the all-time Mother's Day favorite: roses. On our platform, these were the most popular ones in 2020:
Freedom: this deep red rose is the most widely produced red rose in South America (and we all understand why).
La Playa Blanca: this white rose, named after the Spanish island of Lanzarote, was purchased for many mothers throughout the country.
Quicksand: this dreamy soft-pinkish rose is friendlier than its name suggests and was also wildly popular this year.
MOM'S FAVORITE COLORS
Florists know mothers! These colors were ordered en masse:
White
Purple
Peach
Pink
TOP 5 FLOWERS
Every mother is unique, but so is every Mother's Day! When we compare this year's top 5 flowers to those from last year, we see many new names:
TOP 5 FLOWERS IN 2019
Roses
Spray Roses
Carnations
Ranunculus
Garden Roses
TOP 5 FLOWERS IN 2020
Roses
Chrysanthemum
Peonies
Lisianthus
Ranunculus
POPULAR FLOWERS PER STATE
This section is probably most interesting to florists. Because as it turns out, there are quite some differences between states when it comes to popular flowers. Below, you'll find a list of 10 popular flower varieties along with the florists that loved them most*:
| | | | |
| --- | --- | --- | --- |
| | 1 | 2 | 3 |
| Roses | Ohio | Massachusetts | Missouri |
| Carnations | California | Indiana | Kansas |
| Ranunculus | North Carolina | Alabama | California |
| Spray roses | Texas | Washington | Mississippi |
| Garden roses | Alabama | North Carolina | Tennessee |
| Ruscus | New York | Illinois | Minnesota |
| Anemone | Mississippi | California | Florida |
| Eucalyptus | Iowa | Alaska | Illinois |
| Stock | Oregon | Kansas | Oklahoma |
*Can't find your state? Contact us and we'll provide you with some extra data!
TOP 3 FLOWERS PER STATE
Let's talk about state differences some more. As you can see in the table below, not all states love roses best. These are small details that you can use to your advantage, next time you're shopping for Mother's Day flowers.
| | | | |
| --- | --- | --- | --- |
| | 1 | 2 | 3 |
| New York | Carnations | Roses | Ruscus |
| Texas | Roses | Spray roses | Ranunculus |
| California | Roses | Carnations | Ranunculus |
| Oregon | Roses | Carnations | Alstroemeria |
| South Carolina | Roses | Ruscus | Ranunculus |
THE BOUQUET STATES
At iBuyFlowers, we mostly offer flowers per bunch or "box". This way, florists have all the freedom to come up with creations that match their personal style. However, we've noticed an increased demand for bouquets that are ready to go. This is not surprising, as many florists can't be in their shops because of COVID-19, meaning they need to come up with clever solutions. Below you'll find the top 3 states in which bouquets were most popular:
Illinois
North Carolina
Oregon
YOU MADE MOTHER'S DAY 2020 A SUCCESS!
These are difficult times for the flower industry, and we're happy that we've been able to deliver so many Mother's Day flowers to our customers. As you can see in the video below, our customers turned our flowers into the most beautiful Mother's Day gifts- well done everyone! We're also very proud of our growers, who provide American florists with the freshest of flowers now that availability is not a given. As for ourselves, we'll continue to help you to stock up on farm-fresh flowers- whenever and wherever you need them.
Want to select fresh flowers for next week?