María Paula Córdoba talks about Alexandra Farms and their road to international success.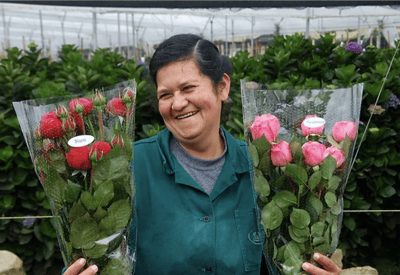 Every grower has an interesting story to tell. They all have a method, style and vision of their own, resulting in a wide variety of flowers, quantity and clientele. But sometimes, a grower's story is more of a fairytale.
Take Alexandra Farms, for example. Passionate as they are about garden roses, they've always gone above and beyond to grow the highest quality fresh cut varieties money can get you. But it hasn't always been easy, as the company had to work really hard to get where they are now. How did this Colombian grower grow to become the most prominent garden rose grower in the world? María Paula Córdoba was so kind to give iBuyFlowers a glimpse behind the scenes of this remarkable business.
So many customers were asking for garden roses- but nobody grew them!
A story about

a father and his daughter
The story of Alexandra Farms starts with a father named Jose Azout ("Joey"). He had worked in the flower business for a long time and traveled the world to learn about flower varieties and flower designs. He found out that growers didn't always grow what customers needed them to grow. "A lot of people were asking for garden roses, but nobody grew them!" María says. Joey decided to take matters in his own hands and set up his own garden rose company. He named the business after his two-year old daughter Alexandra and started experimenting. As it turned out, garden roses were amazing wedding roses, so Joey decided to focus on events. As the company grew, he took on board people that were as passionate about garden roses as he was. One of them was María.
Hired on

passion
"I vividly recall the first day I ever saw a garden rose," María Paula Córdoba says. "It was on a flower fair in Berlin, and it swept me off my feet. I just couldn't believe my eyes!" Years later, in 2013, she ran into Joey, who recognized her passion for flowers and hired her on the spot. "He asked me to become his sales manager in the middle of a supermarket, and I believe I accepted the offer the same day". María had already gained quite some experience in both the flower industry and in sales, but she had never worked with garden roses before. "It didn't matter," she explains, "as Joey was looking for passion rather than certificates. It was a great match from the very beginning."
Small company turns into

David Austin ambassador
Back in 2013, Alexandra Farms was still very small. "We must have had no more than two hectares," María says. "I remember Joey wanted to sell David Austin garden roses, but we couldn't get on the program because we were too small." Luckily, Joey didn't give up the fight and used all of his charm to win over David Austin. It worked: Alexandra Farms got the license and was allowed to sell the world's best garden roses. "That license marks a very important moment in the story of Alexandra Farms," María says. "There was and still is a high demand for garden roses, especially for high quality varieties such as David Austin. The license got us some extra publicity and allowed us to further expand our business.
We take the best garden roses of the whole world and bring them home.
International

R&D
Today, Alexandra Farms sells garden roses exclusively. "It's what we're good at," María explains, "and the high demand allows us to specialize." All roses are grown at their farm in Colombia, but the breeders live all around the world. "Each breeder has different unique selling points," María explains. "There's one in France that specializes in fragrance, and in Japan there are growers that focus on exclusive shades*. Basically, we take the best garden roses of the whole world and bring them home." Together with breeders, Joey and his team also work on the selecting of new, unique garden rose varieties. "We focus on beauty, vase life, fragrance and originality," María explains. "But we also want to know how certain varieties develop in specific countries. After all, we sell to customers in many different countries and different cultures, and they all should get the best possible garden rose experience."
* Great examples are the highly exclusive Princess Maya (which means night rain), Princess Miyuki (which means first snow) and garden roses by the Japanese grower Wabara.
Getting more out of

garden roses
Alexandra Farms may be largest licensed David Austin seller in the world; they still highly value customer intimacy. "Garden roses are beautiful, but they need the be treated differently compared to other flower varieties," María explains. "When your garden roses are delivered, they're closed. They'll open around four days later, right when you need them for your event. However, if you don't know about this delay, it's very easy to get scared." This is why Alexandra Farms spends a lot of time and effort in educating their customers. "We offer information on our website, but we also collaborate with designers all over the world," María says. "European Master Class is one of our partners. They teach our customers how to use our garden roses, so they really get to shine on their events. Brilliant, as this way, our customers get the most out of our flowers."
A grower's favorite flower
When asked about her favorite garden rose, María doesn't have to think long. "I literally have a new favorite every week," she says laughing. "At the moment it's the Miyabi rose. The first days, it had these hot pink shades, but yesterday it started to fade into a lovely peach color. It's like magic!" María's passion for garden roses is typical for all members of the Alexandra Farms team. It's also what makes them so successful, as their passion, curiosity and innovativeness are equally disarmingly charming and contagious. David Austin was right to license this Colombian garden rose grower, as they sure did him proud.
As for iBuyFlowers, we couldn't be happier to have Alexandra Farms on our grower squad, and we strongly advise you to keep an eye on them!
Want to discover our Alexandra Farms assortment? Start shopping roses.