Floral inspiration mood boards for Mother's Day
We are passionate about inspiration boards, especially when it comes to creating stunning Mother's Day floral arrangements! Selecting the perfect flowers for a bouquet or deciding on the best combination of flower types and variations can be quite challenging. With more than 10,000 flower species in existence and new ones being discovered every week, we empathize with the difficulty.
Even we can feel overwhelmed by the numerous choices and combinations available. The suppliers on iBuyFlowers.com offer over 8,000 varieties and a multitude of colors, making it the ideal place to ignite your creativity. Now is the time to let your floral artistic flair shine and blossom!
There's nothing more exciting than drawing inspiration from various mood boards to create beautiful Mother's Day floral designs. From smaller details like table centerpieces to grand gestures such as lavish outdoor celebrations, we have you covered!
Inspiration is all around, with a vast array of blossoms and tulips providing endless variety and color to explore. So, dear florists, let your creativity run wild and delight your customers this Mother's Day!
1. Bright Mother's Day inspiration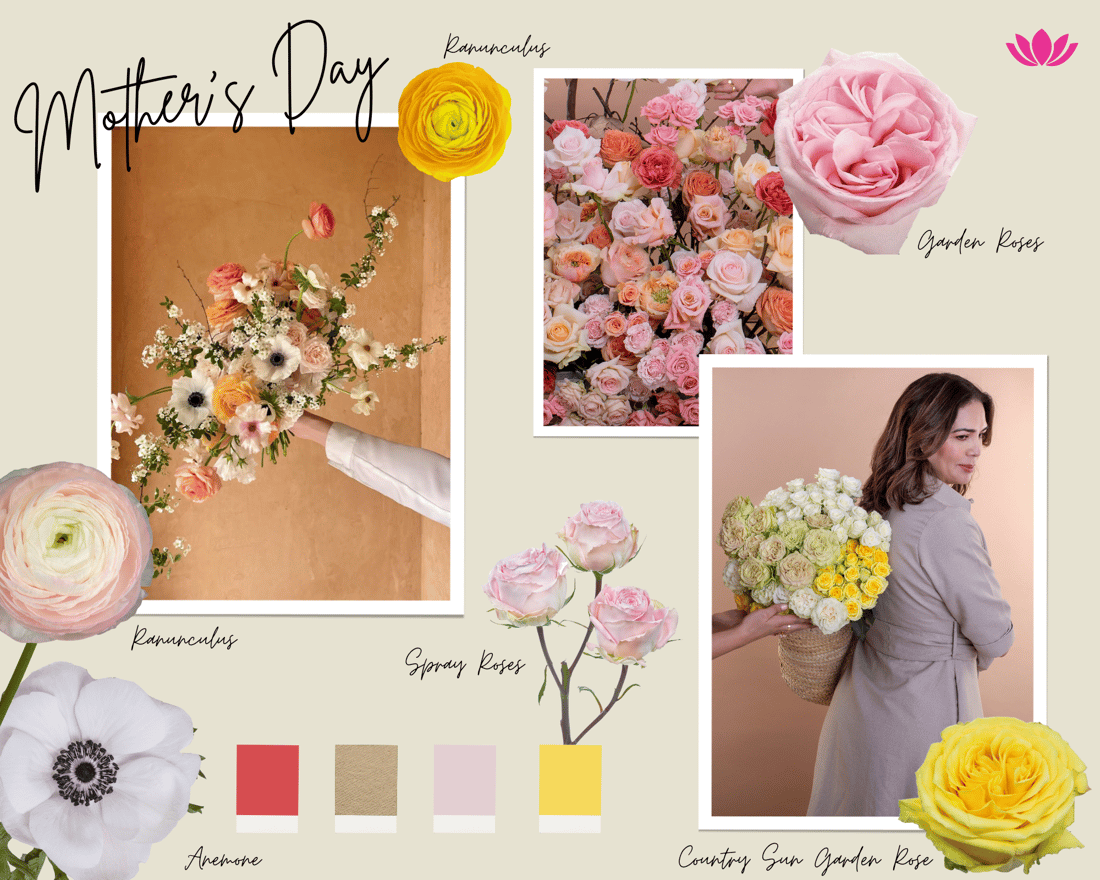 Left big bouquet credit: Fleurisse Design
Flowers included:
2. Pastel Pink Mother's Day inspiration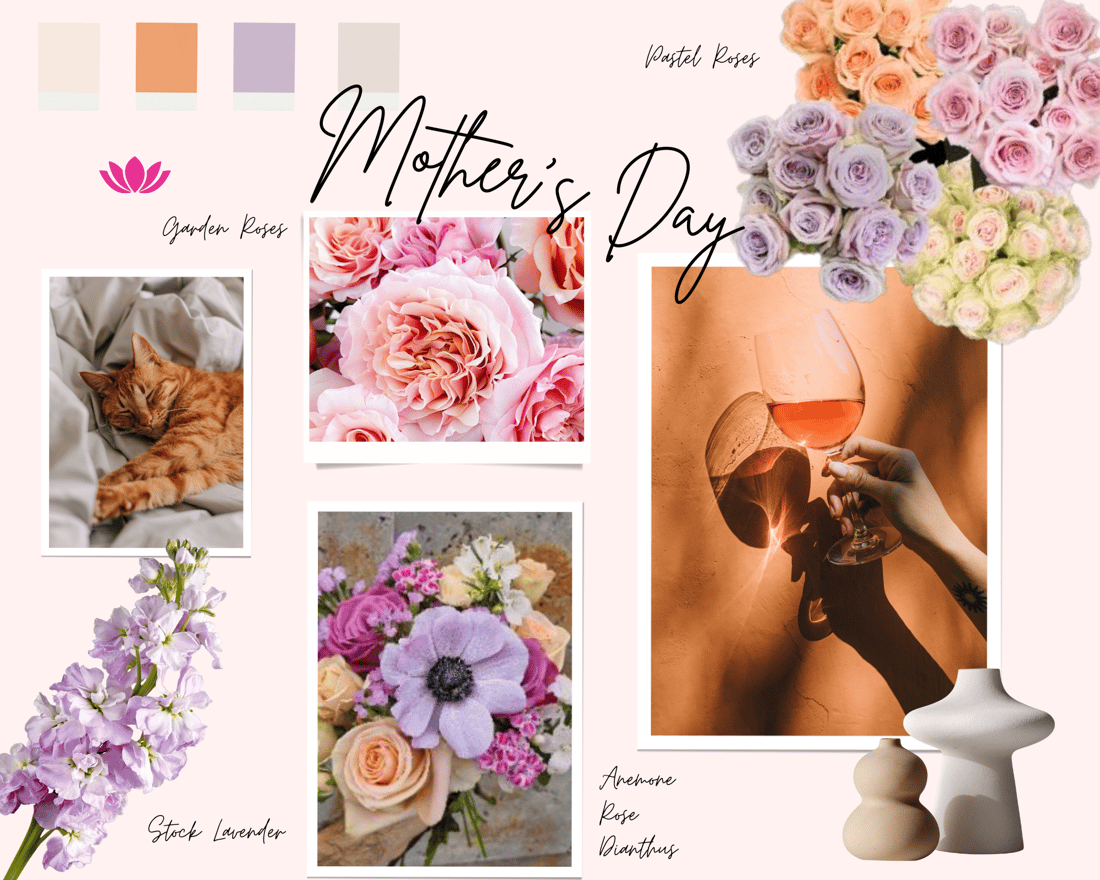 Flowers included:
Stock Lavender
Rose light pink
Garden Roses Pink
Pastel roses

Lavender
Orange
Soft pink
Would you like to shop for all these flowers? Take a look at our E-wholesale website to discover the endless floral possibilities!
3. Bright yellow Mother's Day inspiration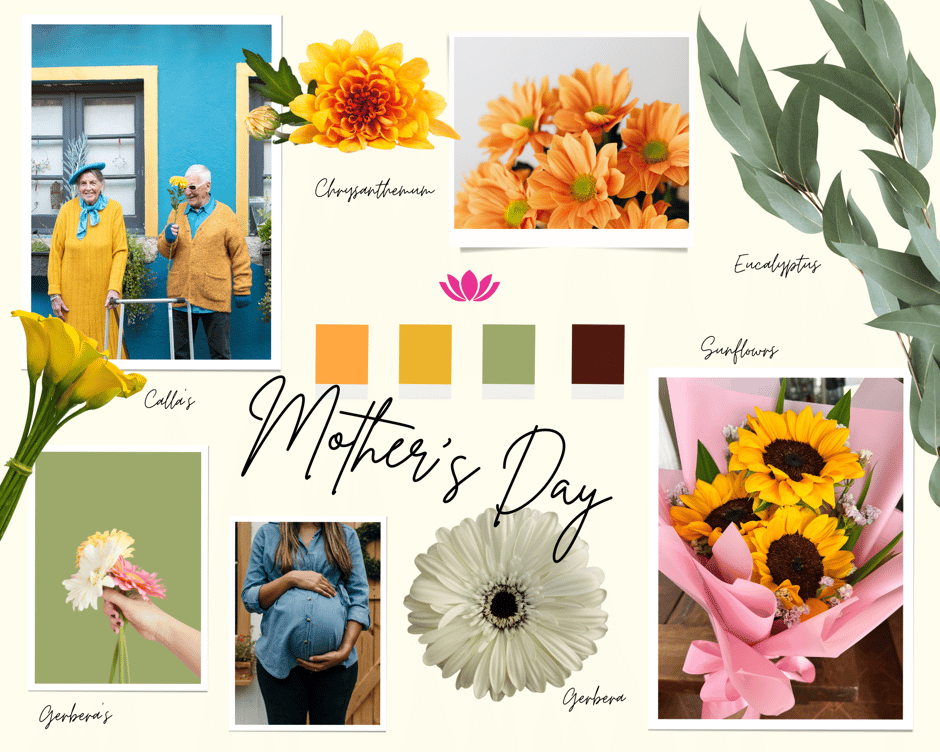 Flowers included:
In the mood for more yellow-colored flower inspiration? Check out our yellow inspiration blog!
iBuyFlowers has over +8,000 varieties in our wholesale flower assortment and you can easily buy your fresh-cut flowers in bulk or by the bunch!
We have a wide range of flower colors available in our assortment so you can match the color scheme for any event with ease!
Contact us today if you want more information on how we can help make your floral dreams come true!
Would you like to browse through all the beautiful wholesale farm-fresh flowers that iBuyFlowers has to offer? Click below!