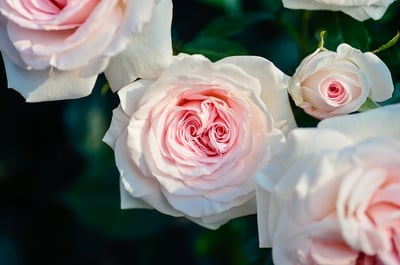 Decades of experience in the floral industry, including work in a variety of segments and on multiple continents, provided Wilfred de Wit with numerous contacts and rich institutional knowledge that he used to create an innovative flower sourcing company — one that is still operating full steam amid the COVID-19 pandemic.
In 2016, de Wit founded iBuyFlowers.com, a B2B venture that directly connects florists and event planners with more than 40 flower growers in five countries, offering more than 4,500 different varieties.
"Our industry demands more understanding of products' origin," he said. "Our customers want to know the person behind the flowers." With his business model, customers can see what's available from a specific grower and select which flowers they want, resulting in farm fresh flowers. "There's 100 percent transparency in where the flowers come from and when they were packed and shipped," de Wit said. "Florists' and event planners' orders of fresh flowers are delivered to their doorstep within four days of being picked.
"Additionally, because de Wit has no physical inventory, he can leverage low overhead costs. "This allows for lower prices for those who use our platform," he said. All prices include shipping through FedEx. Delivery occurs five days a week, "and every order is overseen by a dedicated account manager in case people need assistance, for a personal touch," he added.
Prior to launching iBuyFlowers.com, de Wit worked for Holex in the Netherlands, Sun Valley Farms in Arcata, California, and Grupo Arbusta in Quito. He also co-owned an Ecuadorean farm specializing in irises and lilies and briefly ran an Internet company that sold flower bulbs. "I have seen the industry from the point of view of a grower, wholesaler and importer," he said. "I know what I'm doing and have excellent relationships with many, many growers."
"During the crisis, we were faced with the decision to close the store, because we couldn't find product, or take a leap of faith and try iBuyFlowers.com. The flowers were fresh and beautiful — they exceeded my expectations. And the customer service was excellent"

Alejandra Lucci East Hampton Florist Inc
Deep roots, innovative solutions
De Wit's floral roots actually extend to childhood. His father, Nic de Wit, was a Dutch tulip and lily grower — the first to use a commercial windmill to produce electricity and one of the first to use robotics to plant, stack and unstack boxes. "He was always thinking two steps ahead of everyone else," he said. "He taught me that, if something is not working well, keep making changes until it finally does and to never give up."
In his long career, de Wit has encountered plenty of obstacles. "Every day brings a new challenge," he said. "I have dealt with climate changes, roadblocks in Latin America and strikes, for example. COVID-19 is just the latest one."
"Our industry demands more understanding of products' origin. Our customers want to know the person behind the flowers" Wilfred de Wit, iBuyFlowers.com
With his ability to connect people, de Wit is confident iBuyFlowers.com will help floral professionals continue their businesses in this trying time. "It's devastating to see images of beautiful flowers turned to waste because farmers were unable to sell them. We want to avoid that," he said. He's eager — and ready — to introduce his 40-plus grower contacts with florists struggling to access flowers from traditional channels who could also benefit from his discounted prices. Since 2017, iBuyFlowers.com has served more than 1,000 florists, wedding and event planners that buy on a regular basis. Customers have the option to buy in bulk or mix and match their boxes by the bunch per farm.
De Wit also maintains a blog on iBuyFlowers.com, where he shares flower trends, news and business ideas during the health crisis, such as setting up drive-through shopping windows or hosting online flower workshops for kids. "Standing united and sharing stories of creativity will pull us through the current landscape," he said.
Source: Article originally published in Flower Management Magazine April/May 2020 edition of the Society of American Florists.