Let's talk FLOWER PHOTOGRAPHY! Here are 8 top secrets that professional photographers use when capturing their subjects.
Creating better quality photos of your floral designs will increase your sales too!
According to Meero, 93% of consumers consider visual content to be the key deciding factor in a purchasing decision. Most importantly the quality of the visuals you'll use to show how your products look is ESSENTIAL!
So, let's talk about how to create those quality visuals with just your smart phone and the correct light.
Many believe that if it's a beautiful, bright sunny day, taking photos outside at noon would produce an ultimate outcome. Nothing could be farther from the truth. Sometimes, direct, overhead sunlight can create dark shadows, flares and glares and harsh light that are not be flattering on people or flowers. The magic of natural light is truly amazing, but the secret is, how to use it.
That secret is in diffused light. Professional photographers use diffused light to capture the true colors and features of their subjects. Diffused light can be created with overcast skies and utilizing window light as a primary light source. The outcome of this soft, natural light produces beautiful, vibrant photos. No need to have expensive camera equipment either. Your smart phone can capture amazing photos. It just depends on the correct use of this diffused light and a few other fun tips that I will share with you with examples.
1) Where to shoot from
First, place your florals in front the window and make sure when you photograph them, you do not point the camera into the window light, but rather, position you and your camera in between your arrangement and the window, as if you were the window light. Careful not to be in competition with the window light, standing so that you create a shadow on your subject. Moving a little to the side or positioning yourself below or above the flowers can make all the difference in maximizing that window light.

2) Creating a mood
Below are two sets of images that show two different moods to the photographs. Creating these moods in these photos is based on light source and background choice. Choosing a solid dark background already sets a tone to these photos below. When placing the flowers a few feet away or more from the window, you will create some depth. These images almost look as if they were in a painting from the 19th century. Many painters from past centuries and even painters today use window light as their main light source. Although, don't move your florals too far away from the window light, as this could result in a dull, grainy look to the image.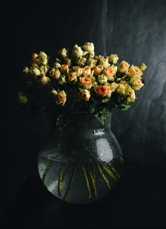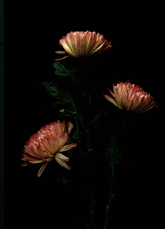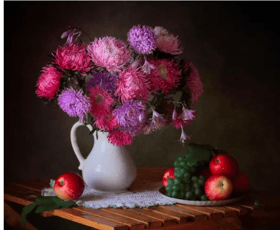 Placing the florals closer to the light source and changing the background to something lighter, will produce a higher light contrast. These pink garden roses below are set in close proximity to the window light. Possibly windows on all 3 sides of these stunning Garden Roses. Setting your bouquet or arrangement a distant from the background can create a blurred, out of focus feel. In this first image, with the pink garden roses, a string of lights in the distance creates yet another layer of mood of bright and cheery. The blurred lights in the background are referred to as a bokeh effect. This is when you choose what your camera focuses on. Then play around with distance to find that 'sweet spot' of diffused light (usually a few feet to 6 feet away, depending on how bright it is outside and streaming through your window). The 'sweet spot' of diffused window light will yield incredible results to your photos.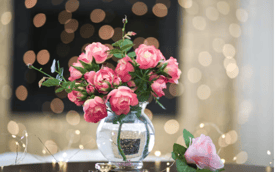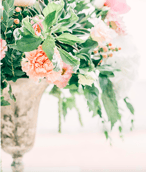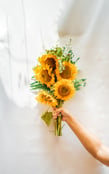 3) Direct Sunlight & Shadows
Soft diffused window light alone is pure magic. Although, if utilized correctly, direct steaming sunlight can be a great tool to create an interesting effect. Like the daisy mums in the tiny glass vase below. Hard shadows may achieve a very different look too. Test the light that you have to see what style you like the best. This is suppose to be a fun experiment to test what you desire to show in your photos. Direct sunlight can change dramatically throughout the day too, depending on where the light is streaming in from and what time of day it is. If you do choose to photograph outside, bring those floral arrangements into full shade to have a more even light to your photography. If you are outside in the late afternoon, just before sunset, you can create a beautiful warmth to your photos that is flattering on people and flowers.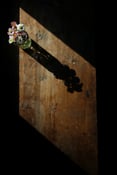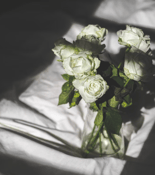 4) Angles. Create a different point of view
To show even more interest, think of a different POV (point of view). Are you wanting your audience to see the florals from above looking down on them? Level or looking up? Angles can change the outcome of your photo to tell a story. The below images show different angles to show different points of view. Find out what tickles your fancy by trying different angles out.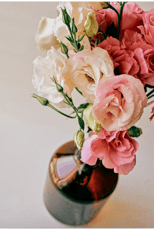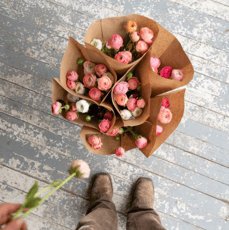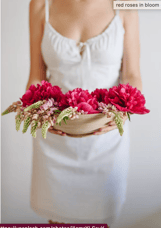 5) Story telling
Tell a story with your photos and show your own personal style using props and accessories. People relish in stories.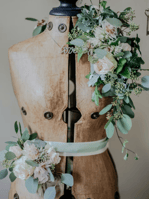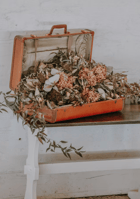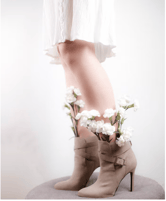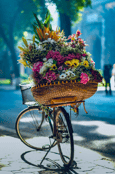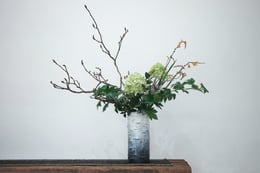 6) Fill The Frame:
When the flowers take up the entire space of your camera frame, it will create an explosion of color and detail that will knock your socks off.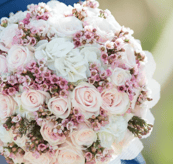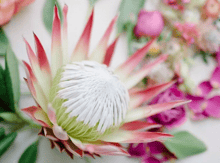 7) Bounced Light
Creating even more light to shine onto the other side of your floral subject, can be easily achieved by using a reflective source to bounce the window light onto your flowers. No need for that expensive pro reflector either. It's easy to create a reflector with tin foil! So, go and grab some tin foil and a metal cookie sheet and wrap it in tin foil for a very effective DIY reflector. Voila! You are an instant pro.



Below you can see what a great difference an additional reflective light source can be. Thank you to Taunie Everett for showing an example of this effect in these floral photos below.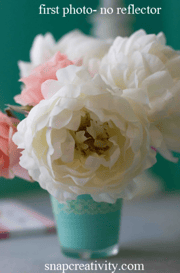 8) Mirrors
A mirror can act as that reflective light source too. It can lend as a photo prop to your floral story or it can be another reflective light Here are a couple of different examples for use of mirrors.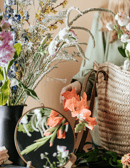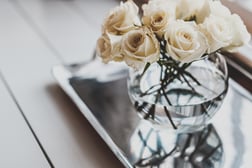 I hope you have 'seen the light' LOL, with some of these secret tips for floral photography. We love hearing from you. If you have some great photography tips that you have learned that can inspire fellow floral enthusiasts, please share examples and tag us on our instagram. We love to highlight our customers and promote their business. Below are links to some of the amazing flowers represented in the photos, photos from professional photographers at unsplash. Of course all these brilliant flowers are available to purchase at iBuyFlowers, by the bunch, bulk or by the box. Check the links out below.
Next month, I will chat about great uses and placements for these amazing accomplished photos. -Love Emma.