As professional florists and floral designers, our craft continually evolves with changing trends, tastes, and styles throughout the years. We have the unique privilege of shaping and influencing people's most memorable life events, especially weddings.
These occasions are the perfect canvas for creativity, allowing you to transform a simple venue into a captivating dreamscape, one bloom at a time.
In the vibrant world of weddings, theme selection plays a monumental role. It goes beyond merely choosing colors and decorative elements; it's about creating an immersive, sensory experience for the Bride, Groom, and attendees. Moreover, as the floral magic weavers, we have a crucial role in bringing this vision to life.
As we make our way through 2023, we're seeing a surge of inventive, fresh, and alluring wedding themes. To help you navigate this ever-evolving landscape, we've curated these trending themes into mood boards. These will not only provide you with a springboard for your creativity but they're designed to help you visualize and construct an unforgettable floral narrative for every wedding you grace.
Use these mood boards to present your customers with inspirational ideas for their wedding or event!
Table of Contents
2. bold & colorful wedding theme
---
1. Blush and White wedding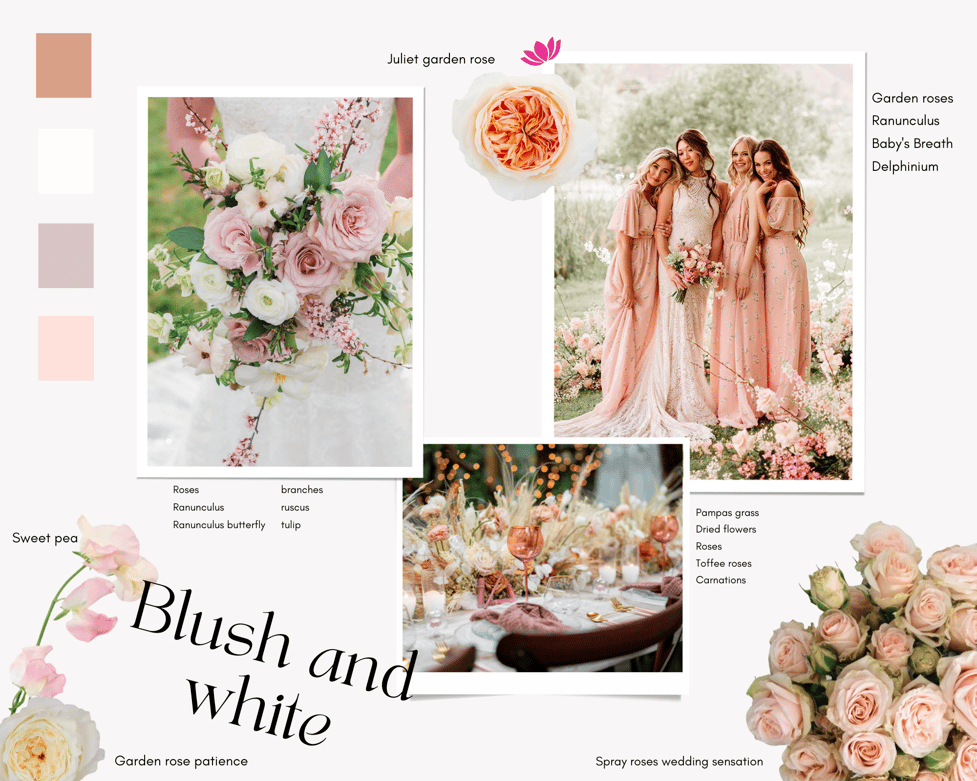 Flowers included:
Garden rose patience
Carnations
Spray Roses wedding sensation
Tulips
Ranunculus butterfly
Pampas grass
Dried flowers
Toffee roses
Ruscus
2. Bold & Colorful wedding theme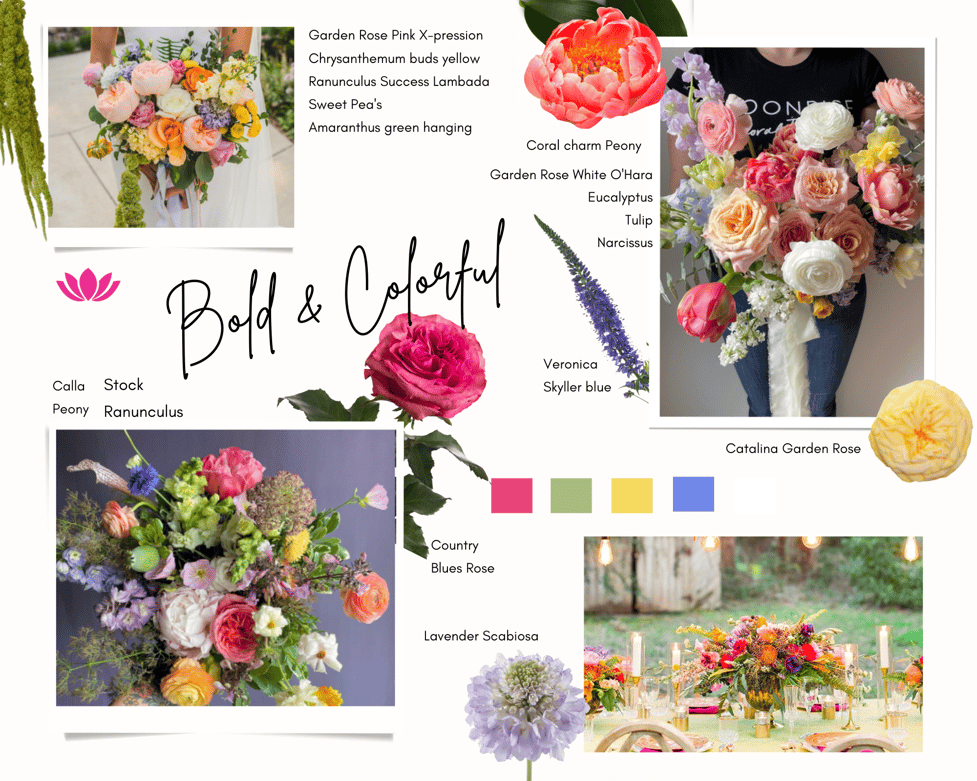 Flowers included:
Country blues rose
Lavender Scabiosa
Veronica skylar blue
Garden rose

Catalina
White X-pression
Calla
Stock
Peony coral
Ranunculus
Chrysanthemum buds yellow
Sweet pea's
Amaranthus green hanging
Would you like to shop for all these flowers? Take a look at our E-wholesale website to discover the endless floral possibilities!
3. Lovely pink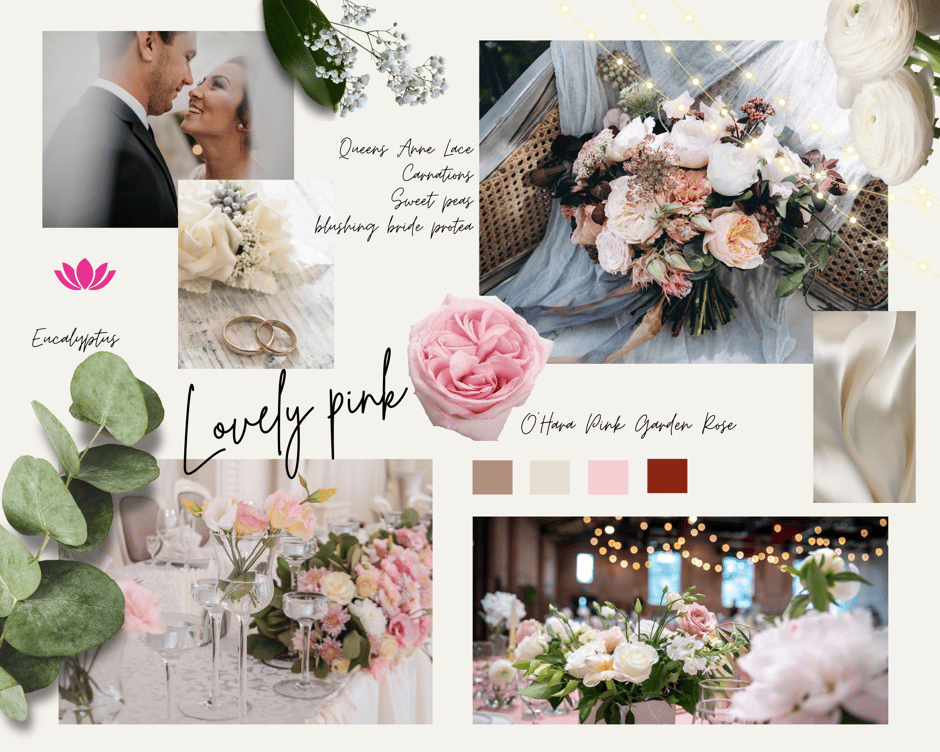 Flowers included:
Blushing bride protea
Sweet pea's
Carnations
Queen Anne's Lace
Rather tn the mood for more yellow-colored flower inspiration? Check out our yellow inspiration blog!
4. Light Blue & White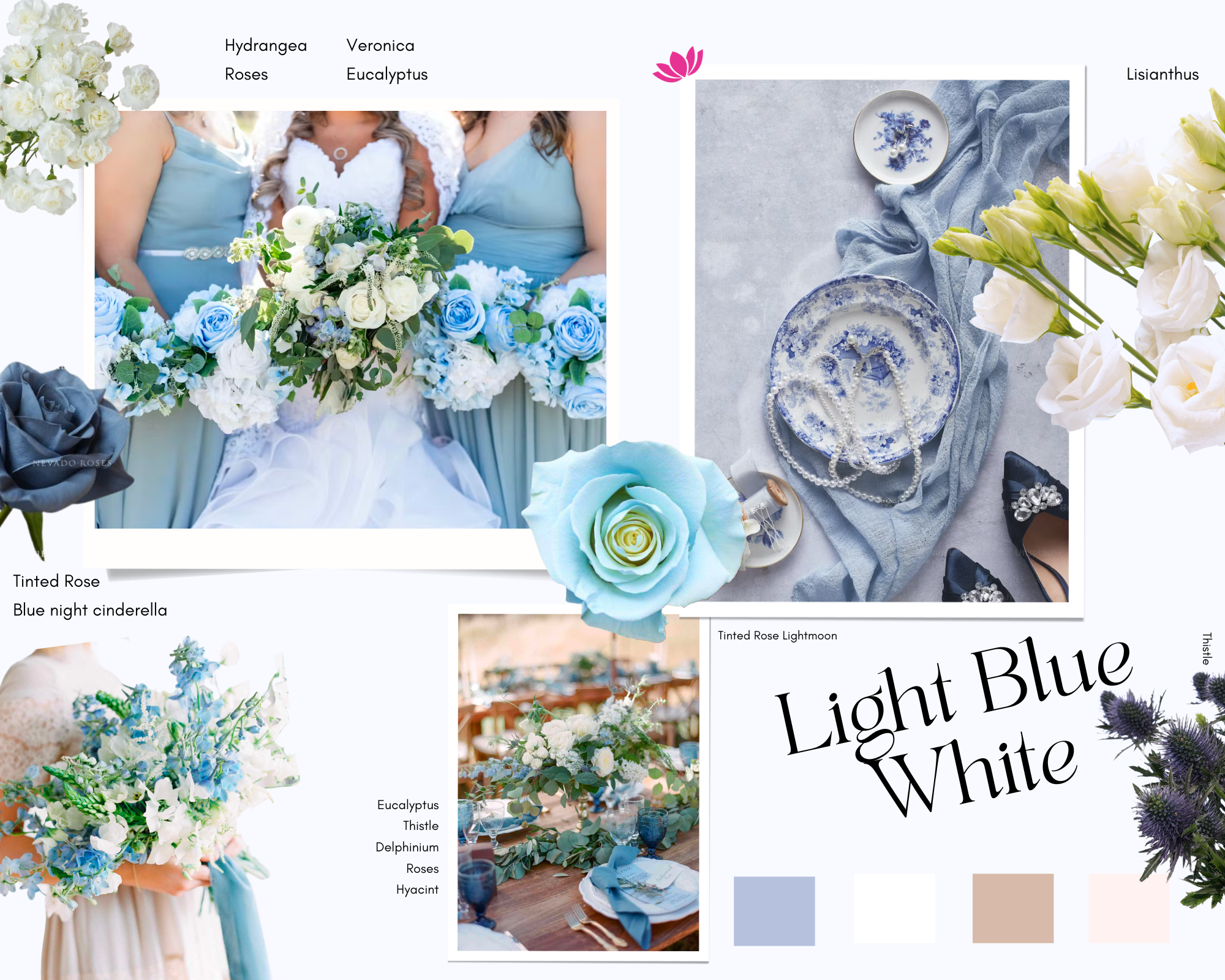 Flowers included:
Tinted roses

Blue night cinderella
Lightmoon

Veronica
Lisianthus
5. All White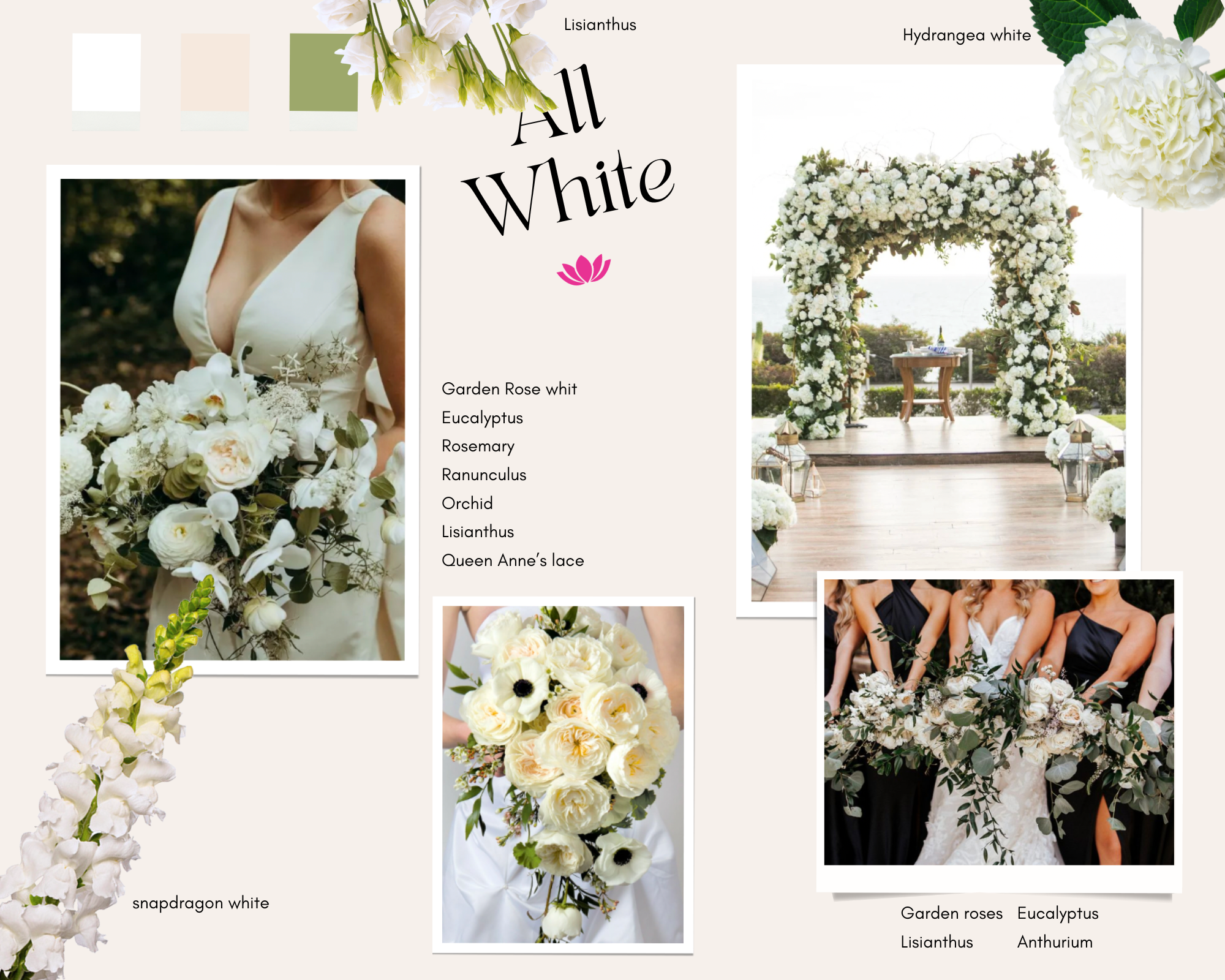 Flowers included:
Snapdragon white
Anthurium
Lisianthus
Garden roses white
Orchids
Queen Anne's Lace
6. Tropical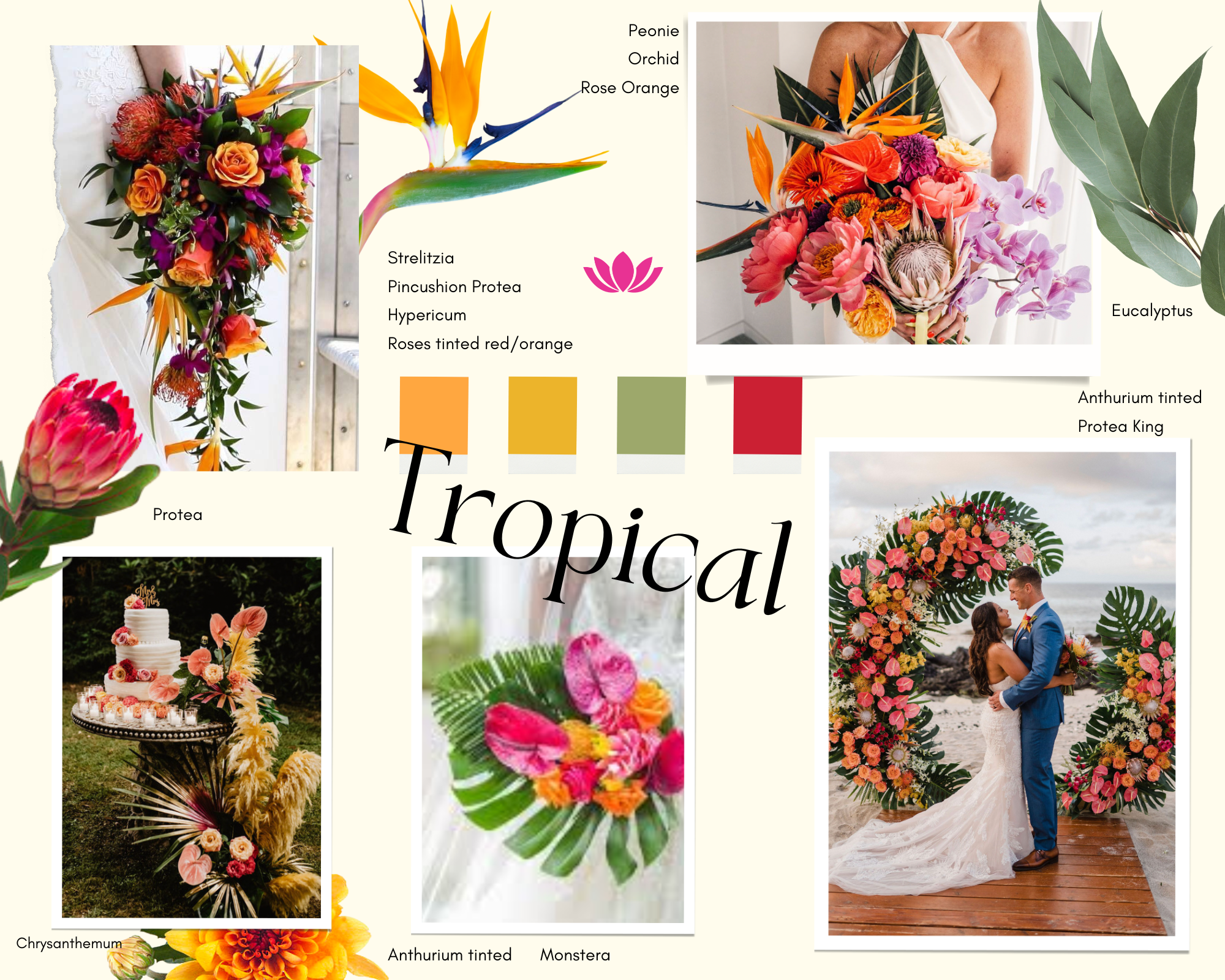 Flowers included:
Chrysanthemum
Anthurium tinted
Monstera
Strelitzia/birds of Paradise
Pincushion protea
Roses
Peony
Anthurium
Lisianthus
Garden roses white
Orchids
Eucalyptus
7. Romantic & Moody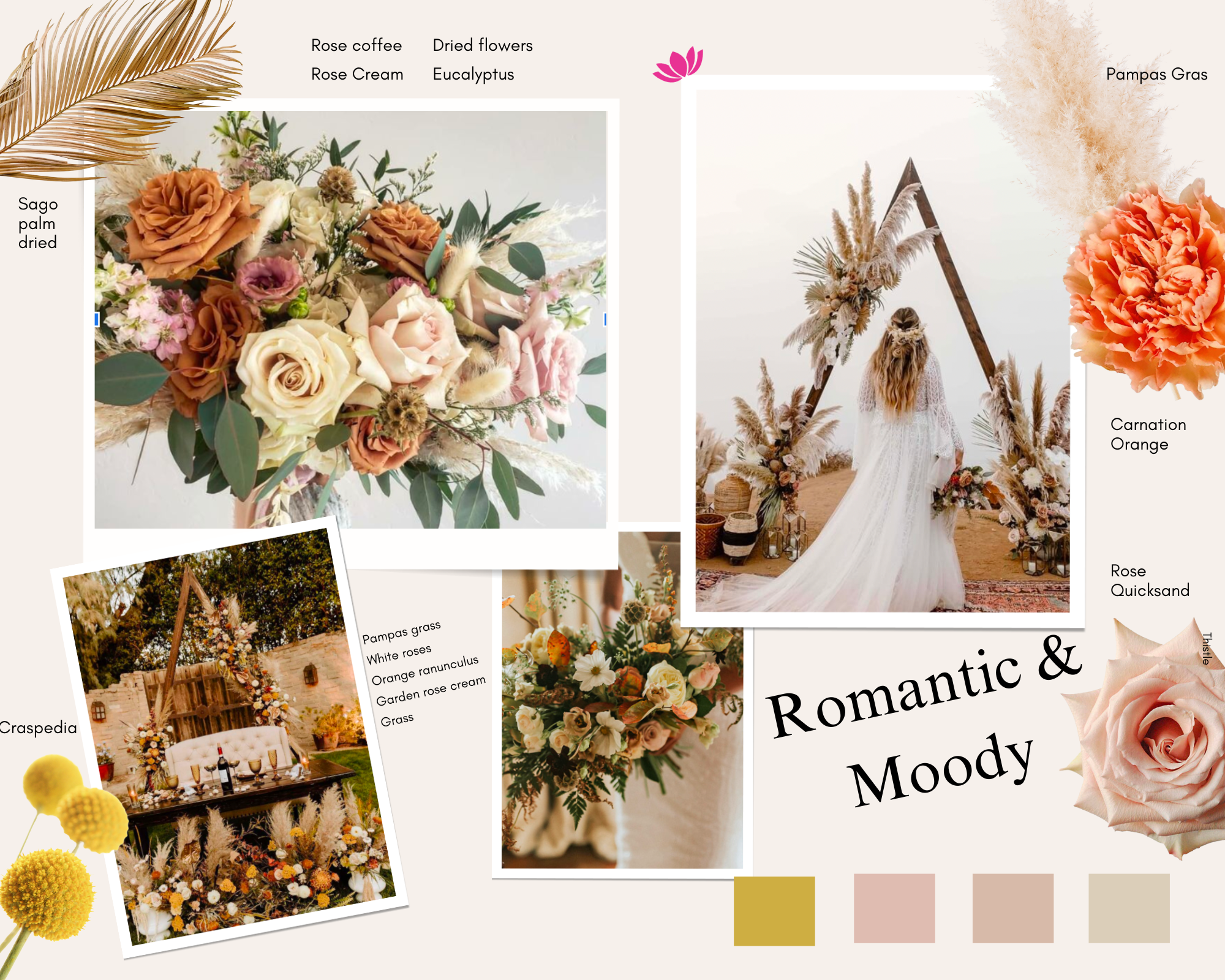 Flowers included:
Craspedia
Pampas Grass
Roses

White
Quicksand
Cream
Coffee

Ranunculus orange
Garden rose
Grass
Dried Flowers
Carnation orange
Sago palm dried
iBuyFlowers has over +8,000 varieties in our wholesale flower assortment and you can easily buy your fresh-cut flowers in bulk or by the bunch!
We have a wide range of flower colors available in our assortment so you can match the color scheme for any event with ease!
Contact us today if you want more information on how we can help make your floral dreams come true!
Would you like to browse through all the beautiful wholesale farm-fresh flowers that iBuyFlowers has to offer? Click below!