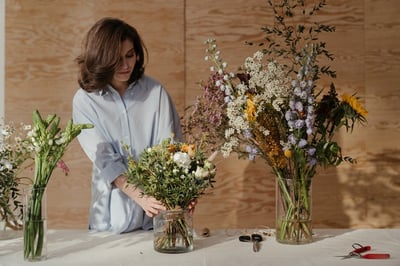 To create the best online B2B fresh flowers marketplace we've been gathering feedback from US florists and wedding & event planners. What do they like about our marketplace? What would they like to see differently? And which features would they like to add?
We used this feedback to make a lot of optimizations that make online flower sourcing fast and simple.
In this blog, we'll share 5 highlights!
1.FIND THE FLOWERS YOU NEED, FAST
With 4000+ flowers in our online marketplace, it's important that you can easily find the flowers you're looking for. Our improved search function is designed in a way that you can quickly find the flower varieties you need, regardless how you spell their names. Second, we used feedback from florists and wedding & event planners to improve the navigation bar and filters.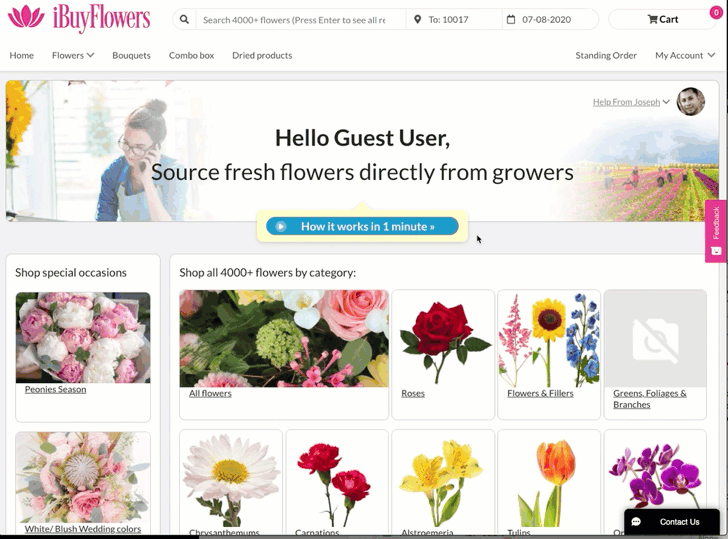 Discover our improved marketplace »
2.BEST PERSONAL DEAL, AUTOMATICALLY
From now on, we automatically calculate the best deal for you, based on the live inventory and prices of our 40+ growers, custom clearance, and FedEx delivery costs. We present the best deal in your check out, so you don't have to go and search for the best options yourself.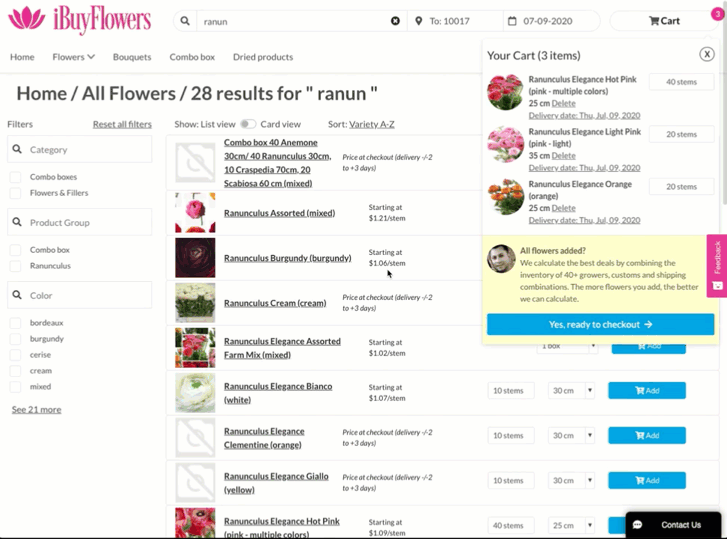 Discover our improved marketplace and your personal deals »
3.MOBILE FIRST
We discovered that many of our customers shop flowers on their mobile phone instead of their computer or laptop. Therefore, we redesigned our website and made it mobile first. This means you can now use our marketplace on your mobile phone- without having to download the app.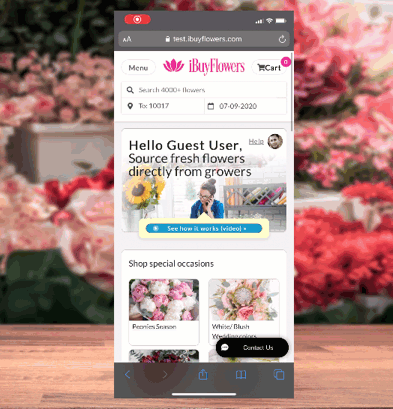 Try out the new mobile responsive marketplace »
4.SEASONAL INSIGHTS & SUBSTITUTES
Being a flower expert, you know that not all flowers are available throughout the year. But as we offer flowers from 40+ growers all around the world, how do you know which flowers are available at which grower? In our new marketplace, we show you the flower variety availability for your delivery date upfront, along with a visual calendar that indicates the availability throughout the year. Also, you'll find the best substitutes for each flower variety, so you no longer have to worry about which alternative to source.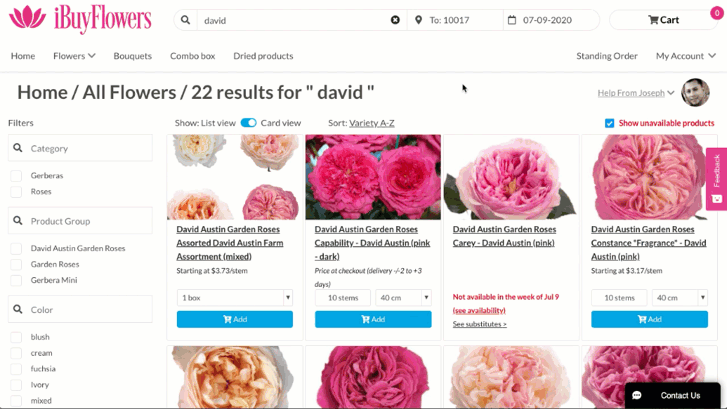 Discover this new feature yourself »
5. HELPFUL CHECK-OUT THAT PUTS YOU IN CONTROL
When you're at the check-out, you want to be in full control. Therefore, you'll get a clear overview of the varieties and delivery dates, and you're able to adjust amounts and complement half-empty boxes without leaving the check-out.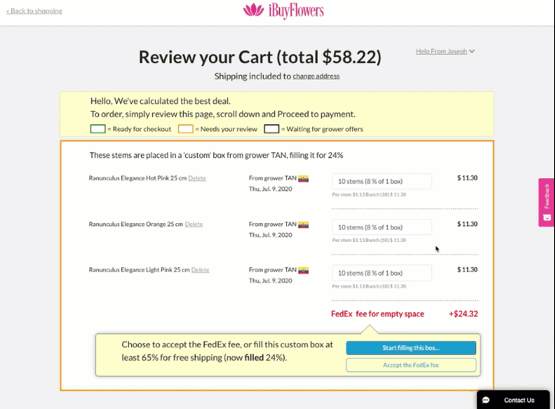 Discover what 'in control' means in our new marketplace »
WHAT'S NEXT?
We're proud to have added and improved the features mentioned above. But we're far from done! The upcoming months are packed with optimizations that will make our marketplace even better. As our customers know best, we'd love to hear your feedback and requests!
iBuyFlowers.com is an online marketplace where US florists and wedding & event planners source their flowers directly from 40+ growers. Read more about our mission here.